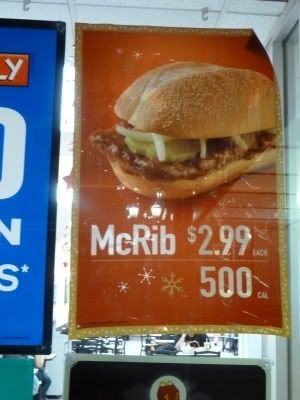 I saw the sticker from a moving bus and it said "The McRib Is Back" which is quite the statement indeed, there were rumors of this over the years but I think the last time that I even had a McWib was about twenty years ago and my recollection of the sandwich itself remains foggy, indistinct and untarnished in my mind, I Have No Idea what to expect but Need to have one as soon as possible because Its Back AND ITS A MCRIB SANDWICH and I certainly Don't Remember NOT LIKING IT!!!
Staring at the box and its clever graphics (McDonald's Doesnt EFF Around) was giving me no clue to its contents except that it was (1) McRib SandWib Full of Tangy Temptation.
While the Pickle and Onion make the perfect bedfellows for the McRib Sandwich complimenting it perfectly along with the Oblong Bun I have to say that in all of my experience the McRib is absolutely the Messiest Fast Food Sandwich I have ever had the pleasure to eat, I defy anyone eating with their hands Not to get the Temptingly Tangy Barbecue Sauce on their fingers. The texture of the Boneless Pattie of Rib Meat is correct but upon closer inspection you do realize that the reason the Wyb is Slathered in so much Sauce is because the Meat itself really has no Flavor to it just a Meatlike texture.
Would I have one again ? Of Course.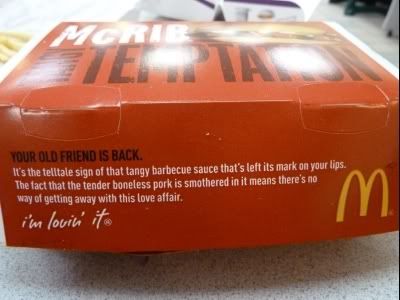 The McRib on Saturday Novenber 6th, Fourteen Days Later (Sean ate it)