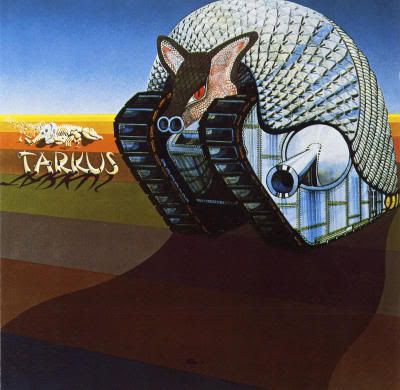 In the annals of the much beloved and respected Prog Rock format (ask any rock critic) 'Tarkus' Is amongst the top five masterpieces in the albumsidelong twentyplussomethingminute epics of the genre for many reasons, you may feel daft upon the initial listen becoming rather confused with what can be a puzzling muddle of early 70s Dube over Drama Lyrical Poetic License (of which it is) But!!!,.... As a Classic, Different, Adventurous record even for 1971 (and the trio's sophomore effort at that) its Very listenable, groundbreaking, extremely heavy and lets not forget way ahead Of its time For its time and in substance, performance and scope the piece continues to be way ahead of its time (as far as popular music goes) right HERE in the 21st Century.
Tarkus is also possibly the Greatest 20 minute piece ELP ever wrote but most importantly amongst the best of the LP's of Any Decade featuring a half mammal/half cannon on its cover, We also get some colorful landscape/action/battle shots depicted inside the gatefold sleeve and the first look at the mythical Manticore which would become ELP's very own imprint label (Manticore Records) two years later in 1973.
Below we see the infamous Inner Gatefold Sleeve (in digital .jpeg format), its said that people used to "roll" things on the original 33 1/3 RPM vinyl record encasing cardboard versions but I wouldnt know anything about that.
I dont Know, That Looks Kinda Like A Manticore in the middle there !!! (Lion's Body, Scorpion's Tail, ya know)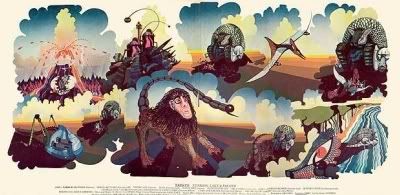 And then of course theres 'Tarkus' Merchandise.
My initial impetus for placing this article online was influenced greatly by this dandy little number, of course I am speaking of the Tarkus Medallion. I was initially shocked to see this item even existed and still question wether or not there is ANY Time in my life when I would have thought this a cool item even as a gift, I still remain on the fence about it.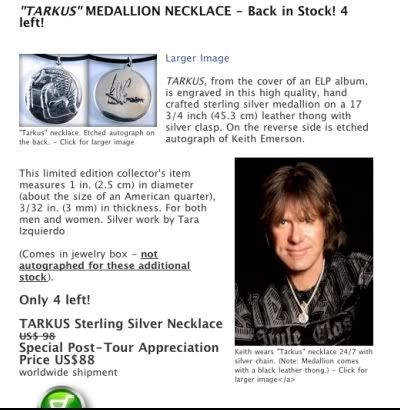 Backed with a facsimile of Emo's signature.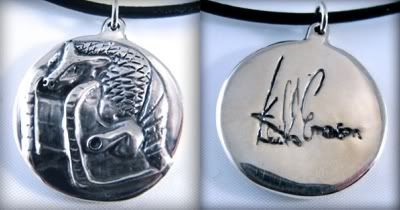 The Cock Rock Disco Record Label.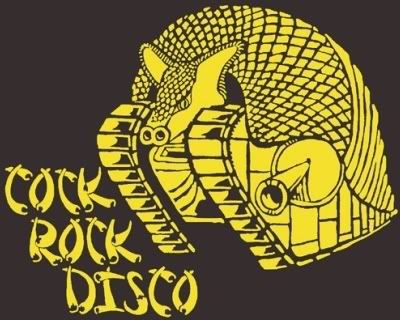 The 2008 Japanese Re-Issue
The Mobile Fidelity Sound Lab CD Pressing.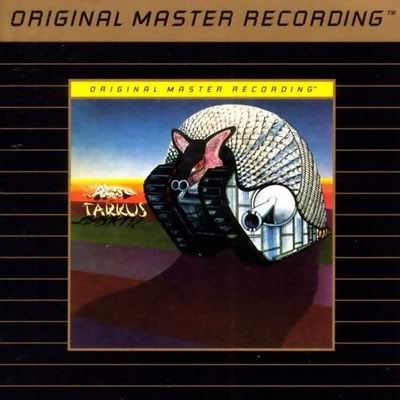 The Stage 'Tarkus" YES its my term but there is a stage 'Tarkus' (seen here "onstage" in 1973)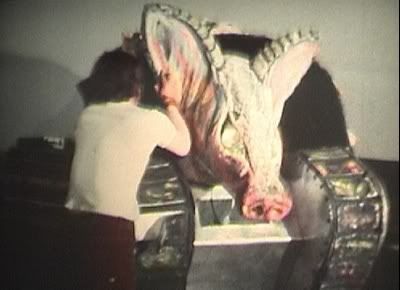 Performed by the Japanese in the Classical format.
The word 'Tarkus' means Wisdom in the Estonian Language.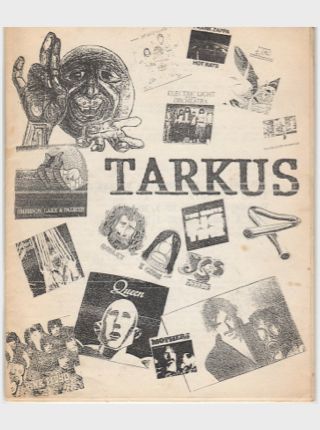 My cottage industry VHS trading company catalog cover.