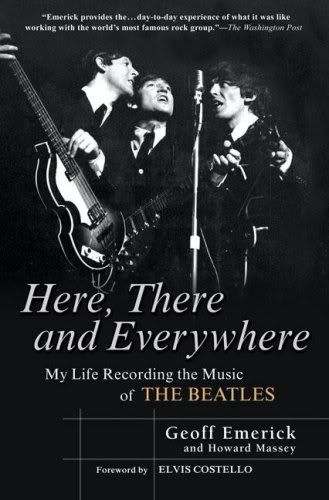 And what an entertaining and insightful read this book is. Geoff Emerick served as "balance engineer" for EMI studios and sat behind the mixing console for most of The Beatles (Yes The Greatest Band That Will Ever Be) recording career so we get insight into what went on in the control room as it happened. I admire Sir Paul McCartney even more after reading of his perfectionism and infectious drive during the recording sessions. Mr. Emerick writes in a friendly style and you get the impression that hes not bending any truths or fueling any myths he's simply stating the facts as they happened. The Beatles broke so much ground musically AND with the recording studio as a musical instrument, take "Tomorrow Never Knows" for example.
"The problem was that we only had one extra tape machine.Fortunately, There were plenty of other tape machines in the Abbey Road complex, all interconnected via wiring in the walls, and all the other studios just happened to be empty that afternoon. What followed next was a scene that could have come out of a science fiction move-Or a Monty Python sketch. Every tape machine in every studio was commandeered and every available EMI employee was given the task of holding a pencil or drinking glass to give the loops (tape loops) the proper tensioning, In many instances this meant they had to be standing out in the hallway, looking quite sheepish. Most of those people didnt have a clue what we were doing;they probably thought we were daft. they certainly weren't pop people, and they weren't that young either. Add in the fact that all of the technical staff were required to wear white lab coats, and the whole thing became totally surreal"
I cant add anything after that, If your a Beatles fan do yourself a favor and read the book.