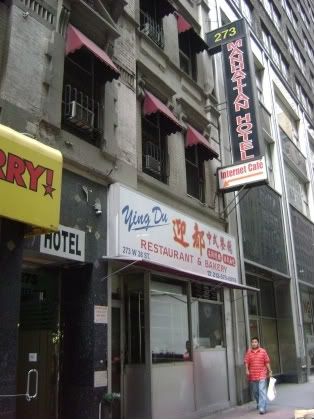 The Manhattan Broadway Hotel located at 273 West 38th street in Midtown Manhattan makes for a pleasant enough stay but with some hotels there are Pros and Cons. I would reccommend this hotel as a place to keep your belongings and a nights sleep but would not suggest you hang around in the gaudily painted somewhat claustrophobic rooms (mind you I booked a room for two, they may have larger suites) without heavy doses of libations or a few White Castle Burgers.
THE PROS:Reasonably priced, Friendly desk clerks, Once you are past checkout time they only charge ten dollars for each additional hour as opposed to an entire days stay, Located near the heart of things, Adequate water pressure, Ice Machine (ohboyohboyohboy)
THE CONS:Air conditioner placed at bed level (good idea only if you are extremely sedentary), Asked hotel staff for fresh Loofa towels (These were certainly not downy soft) twice to no avail but front desk accommodated briskly, Internet cafe (in lobby) is two laptops facing each other Milton Bradley Battleship style, No Smoking/Candles or you face a $250 fine, No personal refrigerator, Only ice machine located on the first floor, Bed too soft, Drilling in hallway at 9 a.m., No Gideon's Bible (have those days passed us?), Elevator capacity of 1000 pounds (I dare you to fit more in that dinky closet of a space), No room service, No bellhop
But please remember IT IS EASY TO COMPLAIN
At least its not room 1408 (for all you Stephen King fans)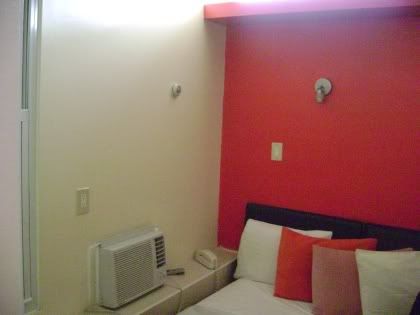 Foolish air conditioner placement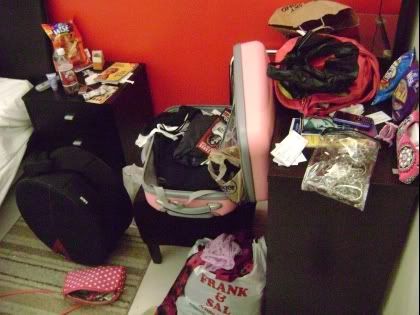 That is NOT A Hat Box, Its a Sleek Snare Drum Bag.