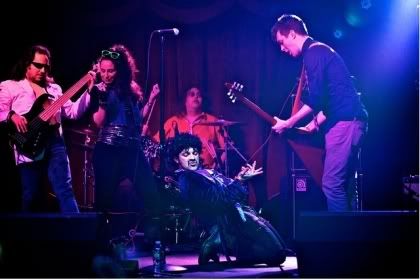 Tonight was our third return performance/engagement at the spacious and lovely Brooklyn Bowl at 61 Wythe Avenue and always a pleasure to appear at.
THE PROS - Full Backline (sans guitars,keys and cymbals), We are performing at the Brooklyn Bowl which is probably Brooklyn's finest room, aside from a certain bartender (dare I call him anything else) the Brooklyn Bowl has an accommodating and pleasant staff from top to bottom, Proper stage, Proper Green Room, Excellent on-stage monitors/mixes, complimentary hot water for my Theraflu.
THE CONS - I forgot Nancy's wigs which were newly transferred to my living room inside my bass drum/no bass drum/no wigs. This is being remedied tomorrow and we are keeping all the costumes together, Our Drummer (me) is weak and sick with a coldflucough, when ordering a drink a hipster member of the wait staff reminded me that "Gratuities arent included with the drink ticket" the nerve of him as I am working too (to keep people from leaving!!! hence less tips), I would have set his beard on fire but I quit smoking so my Zippo was back home in the drawer.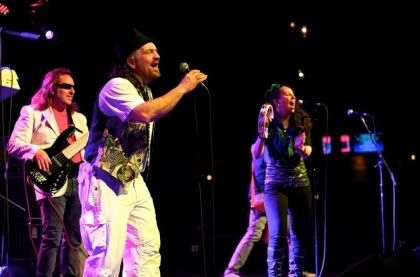 We perform our newest rendition of Barry Manilow's "Copacabana", OK I Joke, Really. J.C. is our underrated singer, This man can sing.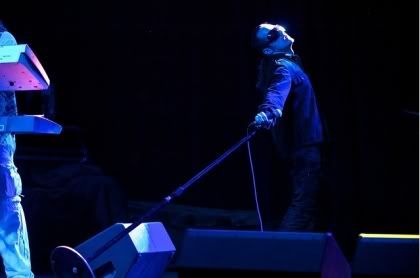 BONO: A Space Oddysey.
Rob does a great job (and many fan photos are taken as well, usually mid-performance).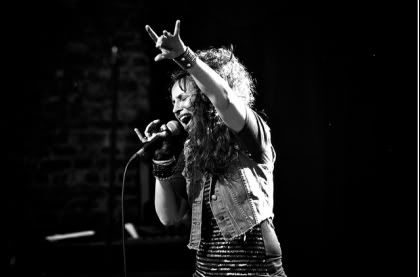 One of the finest singers I have worked with, Nancy - signed spike.
Nancy points Dave in the direction of the nearest Indian restaurant but we needed him at the moment.
Dave hands off the 99th Red Balloon, a first for the band.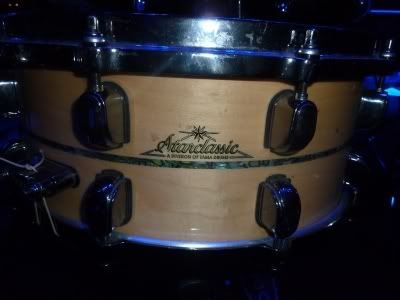 I had to hoof it (via car service) to the Bowl with gig bag, cymbal bag and bad cold (a common health deficit) so lazily decided to utilize the in house snare drum as opposed to bringing my beloved maple DW snare and I was not disappointed. a wee bit high pitched but then again I didn't attempt to retune it. The Tama Starclassic is my second favorite snare drum on the market (I still haven't tried a Gretsch however) so it was fun all around and lighter to carry as well since I couldn't leave with it and bringing it into the venue would certainly be defying the laws of physics as are currently known.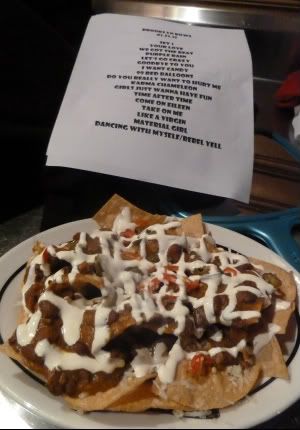 Nachos - I nursed these in the green room throughout the evening and as far as I can tell the toppings were Refried Beans, Beef (Ground ?), Monterey Jack Cheese AND Corn (sending it over the top). ooo, I see some red peppers I think as well. Either way no explanation needed and no time to decipher, this is Nosh Food.
Soundcheck (HD)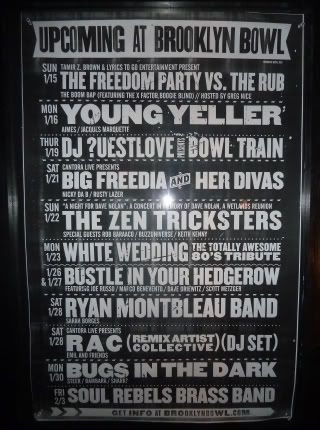 in house schedule poster.
facebook promotion.
online promotion.
brooklyn bowl website
This Is Show # 151
FLICKR