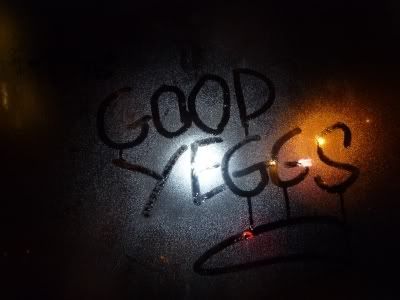 The Precursor to BEEFSTOCK 2012 was held at Freddy's by the band's with the band's and for the band's appearing this year of which the Good Yeggs will be amongst the roster.
The lineup tonight is below, we were running behind schedule as can be expected at these type of things.
6:30 - PLASTIC BEAST - (hand percussion welcome to sit in)
7:40 -
8:00 - BLACK DEATH w/THE BEER VAMPIRE
8:45 - NOHRMAL
8:50 - THE NOPAR KING w/LITTLE JOE IACONO
9:20 - POWER DROID
9:30 - SOLAR PUNCH
----- iNBAL
10:00 - ADMIRAL PORKBRAIN
10:35 - ERIC MATTINA
10:45 - THE GOOD YEGGS w/TOM ROBERTO
11:30 - THE BLOODY MUFFS
12:00 - THE BEAST
1:00 - OPEN BLUES JAM - (let me know in advance if interested)
Admiral Porkbrain came as a surprise to me being a Captain Beefheart tribute band amongst the proceedings, the opening song was "Moonlight On Vermont".
The Yegg's convened unto Freddy's just before 8 p.m. to check out Brian's Death Metal band BLACK DEATH and held a lengthy evening of wine, scotch, vodka, conversations about Gibson SG's, rolls, cough drops and chocolate covered cherries whilst careening in and out of the back room checking out all of the bands until our turn came. Aside from my count off to "Stranger Coming To Town" being 1-2-3-4 as opposed to the correct 1-2-3-4-2-2-3-4 we performed without incident or error and had a really good gig.
Thanks to Joe Cowell for emceeing our segment and Joseph Filosa for putting this all together.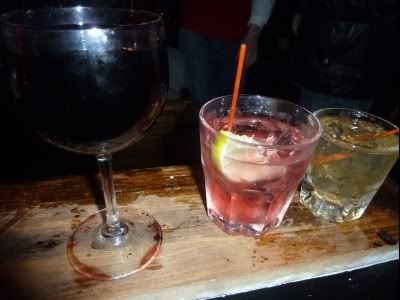 Well, who's drink is who's ?
there's three yegg's and three drink's
There would have been more of this but my memory card ran out. Narcissistic, Moi ?