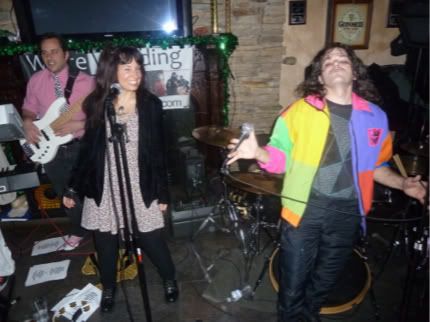 During the Michael Jackson segment.
Bar Patron - "Beat It"
Rob (as Michael) - "Sir, what you do at home is your own business"
A drummer's job is to roll around the drum kit but Rob also had me rolling with laughter quite a few times during tonights performance speaking in character to the attendees. It was not at all a hostile crowd but a new venue for us and we brought no built in audience which considering such was a success for the band indeed as the patrons were up and dancing and most stayed for the entire show.
I played pretty much effortlessly (meaning without effort) and for the arrangements selflessly (meaning no showing off) while enjoying one 1/2 price drink ($3 pint of Newcastle) until discovering the FREE Bud Lights. Nice venue and hopefully we will be back, this was the night that Nancy spilled a little Rum and Diet Coke on Dave's Bass (everything is fine).
But also became the first victim in the clutches of our invading nemesis the surge protectors !!! (more on that below)
Pre-Show/Invasion and Eric is Poised.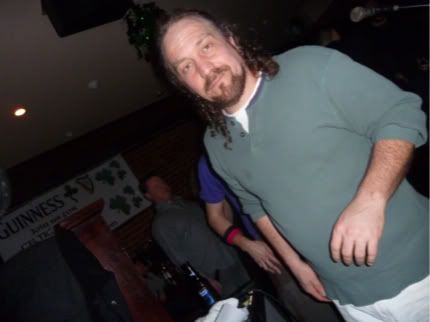 J.C. wiring the planet for electricity.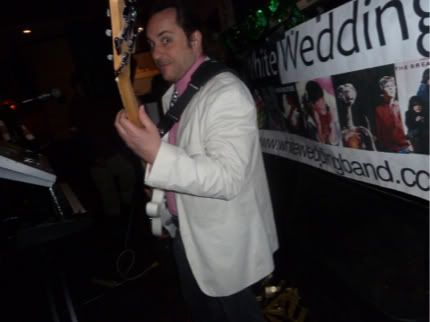 "Here's Looking At You Kid", Is Dave One Of THEM ?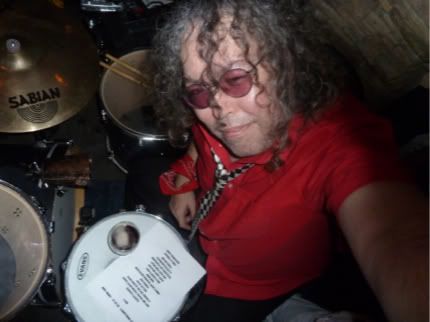 I was the only earthling BLOG photographer tonight so took these candid shots, and heres one of ME!!!.
Got a chance to take some group pics during my break in the first two verses of Journey's "Faithfully" which is where the header photo is from.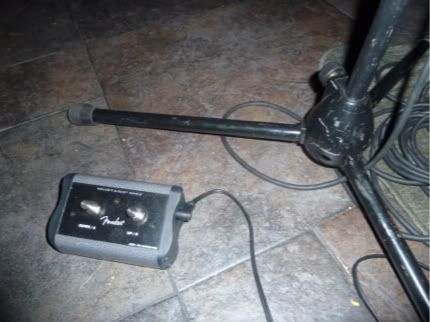 Here is Eric's Guitar Distortion Effect (singular), whereas even most bass players these days use a complete pedal board (multiple effects) Eric continues to amaze me with his incredibly clean playing. At least once a performance I am wowed by a guitar solo of his and tonight it happened twice. There is a theory that the aliens used this as a homing beacon, with full cooperation from the Fender corporation of course.
Looks like some dude at the bus stop has a light saber or is that just an alien craft landing outside the bar ?
More like the mother ship landing an armada of bloodthirsty surge protectors !!!
We fought them off valiantly and saved a few lives too.
See you at the Heritage Bar, March 3rd.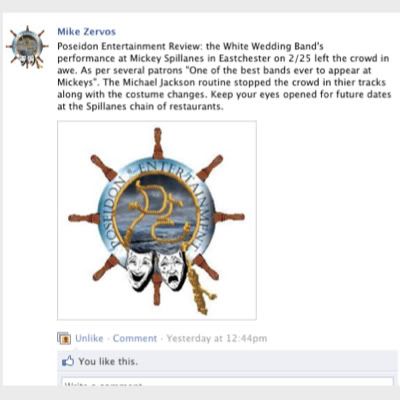 This Is Show # 156