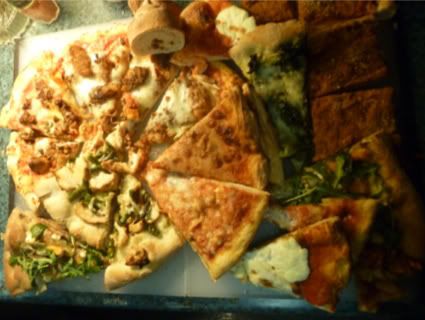 Invited back to the Napoli Pizza party a second year in a row was an honor for me and it was great to see everyone again. The Dough was flying like usual and many more Pies and Rolls (Calzones, Sausage Rolls, Sfingione*) were created than photo space allows in this column, here are some of the outstanding selections (and my creation this year).
Cellphone camera's (plural) documented the proceedings as Pizza's were posted to Facebook in real time that Bill Gates could only imagine and Steve Jobs only be proud of.
Once again Carol outdid herself with the creation of a KFC (Kentucky Fried Chicken) Pizza which is (apart from the Pizza dough) made up completely out of KFC materials in this order from the ground floor up. --> Gravy, Mashed Potatoes, Chicken "from the bucket" pieces and some shredded Cheddar Cheese to top off the toppings.
Courtenay's Pie with Pear Slices, Balsamic Vinegar and Fig Glaze was the most unique Pie this year.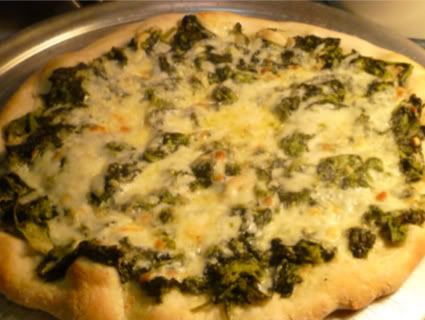 Jamie's Broccoli Rabe and Fontina Cheese with caramelized Onions, probably the favorite of the day.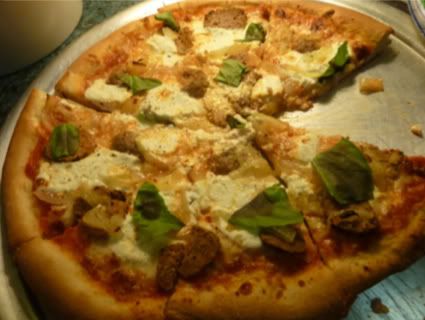 Joe came up with The M.O.R. - Meatballs, Onion, Ricotta & Basil over Sauce and Cheese and that's hard to beat, I mean think about it'. Off the menu this is the safest bet.
My creation of the Taco Pie is Pizza Sauce and Mozzarella topped with Ortega Taco Seasoning flavored Ground Beef with pickled/jar Jalapeño slices and Crushed "Nacho Cheese" Doritos.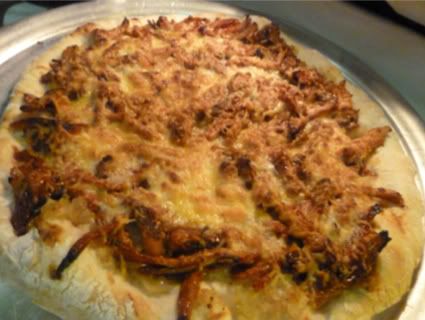 Jamie and Donna prepared the Pulled Pork & BBQ Sauce Pie which flew off the table.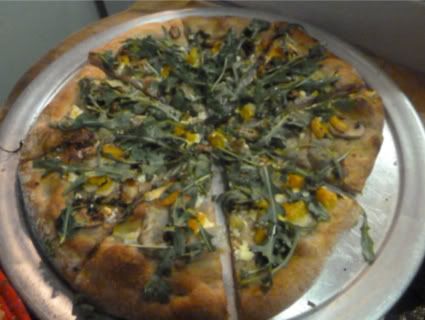 Sirelle's "Healthy" Pie is a Whole Wheat Pizza topped with Arugula,Tangerine Chunks,Goat Cheese and one I need to taste.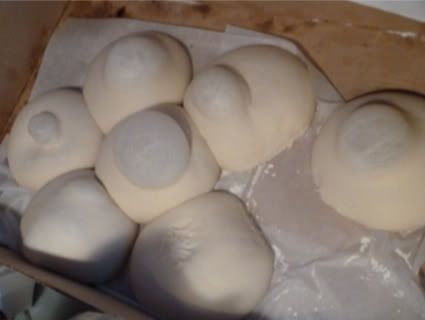 This year the Dough was literally giving "rise" to nipples.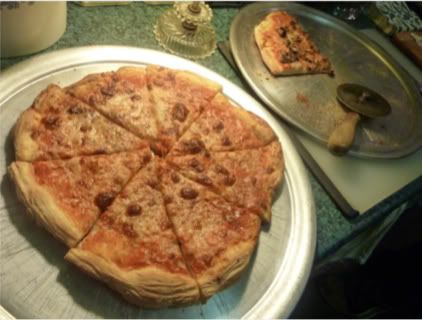 a pizza portrait.
* - properly spelled Sfincione