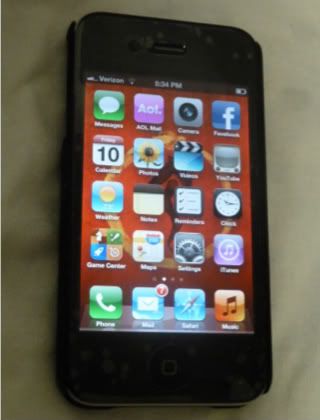 About a year ago I was sitting behind the drums during rehearsal at the Callbox as Dave, Rob and J.C. were all simultaneously buried in their cell phones for a moment to which Mike exclaimed "Well, its 2011 what would we do without our mobile devices" ? I LOL (as they say) and the joke stuck with me, so true and maybe even moreso a year later.
For two years my LG Envtouch served me well being my first touch screen/internet capable mobile device even though I did have major calibration issues and had to send in to get a replacement just a few months into my foray but just the same I too could be seen buried in my mobile device.
I have had my mind set on an iPhone probably since its inception being a fan of Apple products and waited for my contract with Verizon to be up for some incentive savings on my new phone (in my case $30 credit affording me a $70 iPhone) and a slightly inflated data package ($20 monthly increase). After living with this device for a few days I can only sing its praises and I am totally happy with it but it really is just a phone with internet services BUT lets not forget the joy of Apps (a luxury my LG did not support). Forget about Angry Birds (yes I got that one too) the Uber-Geek in me just had to have the RUSH App that I read about on probably the first BLOG I ever read namely
RUSH IS A BAND
and this was the first app I downloaded as soon as I got home. I don't want to be one that sits playing games on my Telephone but boy it is tempting, at the moment Im liking the Music Trivia but thankfully these apps only hold my attention for minutes at a time, so far.
My favorite "mobile device" yet. I can't wait for the iPhone 7
iPhone RUSH App