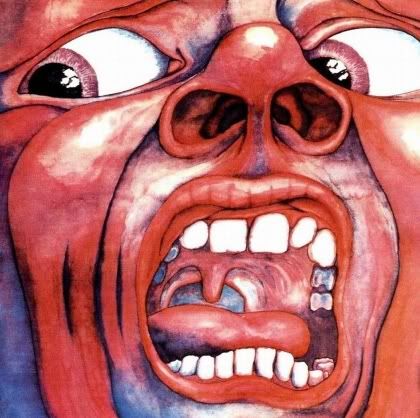 Amidst the onslaught of CD BOX SET Christmas releases of 2011 including the Definitive Beach Boys "SMiLE" collection, The WHO's Classic QUADROPHENIA and the ongoing Pink Floyd Triumvarate of Classic Releases, My favorite box set of 2011 is the 2009 40th anniversary "In The Court Of The Crimson King" collection. All in all you get 5 CDs and a DVD (containing lossless stereo mixes, a video and 5.1 remix), a 24 page 12X12 booklet with essay by Robert Fripp/diary excerpts and ephemera, 12X12 replica of the LP gatefold sleeve for current and future generation's to get a glimpse of what it was like to read lyrics and gaze at artwork in its original Album size most preferably performed while listening to said album, 2 King Crimson buttons/badges (the cover and inner sleeve "schizoid man"), 4 jewel cases (2 double disc) to house all 6 discs and in a mysterious white envelope two 8X10 glossy b&w press kit photos of the 1969 lineup and then of course there's the Glorious Music.
I am drawn to the LP transfers even listening on my MP3 Ipod, theres something vibrant in the murkiness of these mixes. Included is the British Stereo and American Mono LP Vinyl recordings that have been "de-clicked" to cut down on excessive vinyl surface noise. The Bonus tracks are fascinating, The (duo version/Fripp & McDonald) of "I Talk To The Wind" is just stunningly beautiful and with or without vocal track "Epitaph" remains one of the greatest emotionally gloomy tracks ever committed to tape.
Alongside the Nice and Procol Harum this is where Progressive Rock started and it started Brilliantly.
One would be hard pressed to dream of including any further versions of the record on a CD set as included herein is the 2009 Stereo Remaster, the 2004 Master Edition remaster, British stereo vinyl, American mono vinyl and an "Alternate Mix" version alongside studio outtakes, single mixes, BBC recordings and Live concert performances. Disc 6 which is the DVD includes the 2009 5.1 Remix as well as MLP Lossless Stereo (24/96) and PCM Stereo (24/48) encoded versions of the 2009, 2004, alternate mix and outtakes from the 2 disc 2009 re-issue.
So There!!!, No Complaints!!, Just CRIMSO!, Music as remarkable as this deserves the kind of treatment, respect and excitement this package delivers.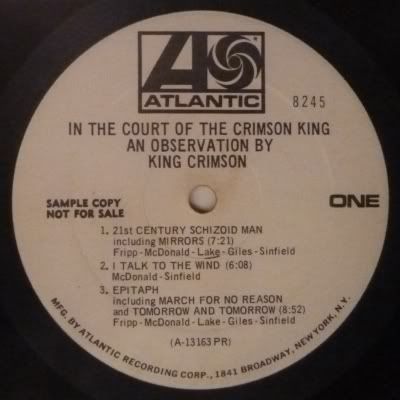 CD inlay card [Disc 5]
The JAMIE/AMAZON Review.