A Double Header weekend for us as the band has a late night show at JCs (two long sets) and an afternoon appearance tomorrow at Claudios (three not quite as long sets as the longish sets the night previous) and it was nice to return to JCs Restaurant amongst its plush and beautiful flora. The band played really well and premiered tonight were "Sister Christian" and the Classic purple chestnut "Lets Go Crazy"
Dave offered me a piece of Chicken Quesadilla (not pictured) which was Delicious (Thank You Dave) but not quite as good as the Quesadilla from the Heritage Pub which has yet to be topped, this will become an ongoing topic if all goes as planned.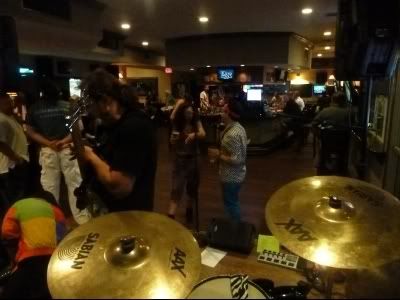 It did become more crowded than this. This was taken at LIKE Eight Thirty!!! (it was).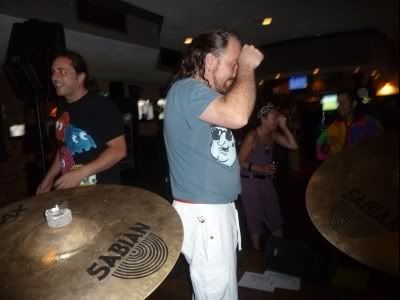 I missed photographing the moment when J.C. cracked Dave's back, but this is right after.
T.V.s (television sets you preverts) and Instruments.