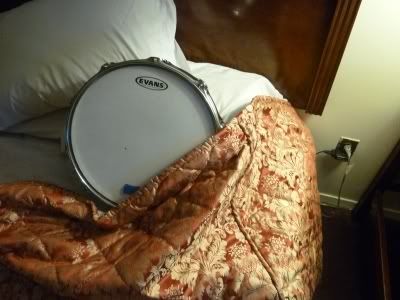 The Greenview Inn of Riverhead which is designed duplex motel style offered adequate amenities but our room (Rob and myself) seemed a bit stuffy and airless. There was a bumbling asian fellow at check-in who slightly panicked when my Cheez Doodles got stuck in the vending machine which I proceeded to shake after which he refunded my seventy five cents, then our door would not open with the pass key (an actual key) so we had a brief game of charades as he showed me to use the doorknob keyhole as opposed to the deadbolt above. I put my refunded seventy five cents into the vending machine and got two bags of Cheez Doodles and grabbed a bucket of Ice. There are certainly worse places and the Greenview did have its charm, well the night check-in guy did.
THE PROS - Room had beds, toilet, shower and T.V. (with remote control)
THE CONS - No shampoo and conditioner or even shampoo/conditioner, language barrier with staff, low tech ice machine, paltry selection in snack machine, lack of air circulation in room, wall to wall carpeting in outdoor hallway.
A nightcap of french vodka and cheesey doodleness.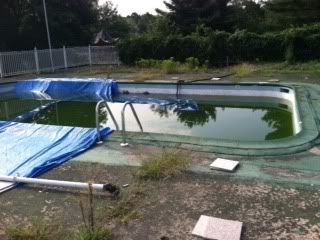 A Pool Too. (photo from J.C.s Iphone).
the blue tarp really disturbs me.