NOTICE - As White Wedding continue to evolve the time has come to relinquish our onstage monikers back to our real names (Well, In Most Cases) due to the fact that the show has become so bountiful of special guests that theres no reason to confuse aliases.
(Left To Right) - Dave (Diamond Dave), Spike (Animal), Rob (Spicolli), J.C. (Amadeus), Nancy (Billie Jean) and Paul (Ferris).
Our bandleader Mike will be joining us at tomorrow's gig (Claudio's - 6/25/11) so we can take a peek at whom Doc Brown has been hiding behind.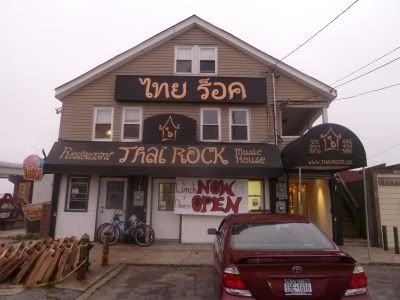 They say Thai Food and Rock Music Bedfellows Shall Never Make !!!
but I for one beg to differ.
Thai Rock which is located overlooking Beautiful Jamaica Bay prides itself on being a Thai Food Restaurant AND "Music House" in which it succeeds. The Doppler was suspecting rain so we did not get to perform outside on the deck this time around. One of our fans Sheila spent her birthday with us and the crowd grew as the night wore on.
Delicious Food, Tasty Wine and one of the nicer venues in Rockaway Beach.
Premiered tonight was the chorus of the Ramones "Rockaway Beach"
Jamie, Rob, Paul, Richard & Spike took the train home in the wee hours only to be annoyed by the presence of "Misteronsomethingandbeingveryvocalaboutitwhiletryingtogothroughthecarsvialockedtraindoor" and instead of being my callous self I was reminded that "Yes, these people can be dangerous and YES they might have a gun"
Mr. OnSomething did Butter me up and easily too.
Upon his possibly tenth or twelfth passing across the train car he did exclaim (upon seeing Paul's guitar case or maybe my hair) upon my friends and bandmates.
Mr. OnSomething: I like you people, your'e entertainers
(after a pause)
Spike (To Jamie): well,.... that was very nice.
Jamie (To Spike): You are So crazy, do you know that ?, Why are you So crazy ?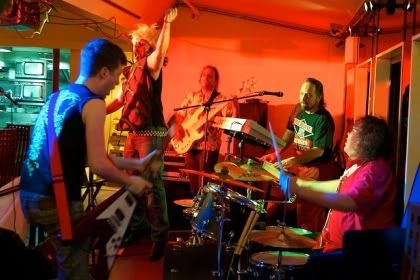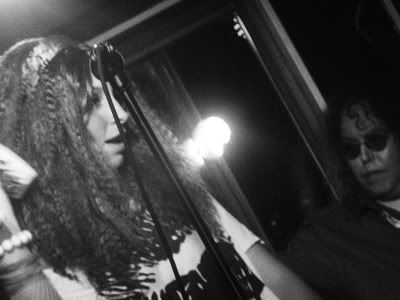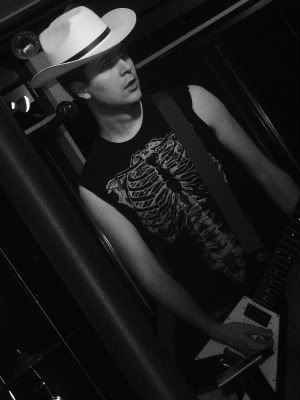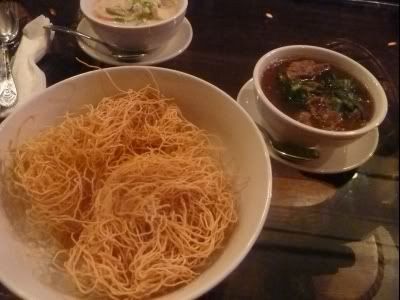 Beef Lad Nah - Like Chinese Pan Fried Noodles but the Thai version making it completely different. DELICIOUS but I want what Dave had, The Yellow Curry.
Mind You the Beef Lad Nah Never Stood A Chance and was Completely Imbibed. There were Curry Puff's too, YUM. Great Food Here.
THAI ROCK SITE
FLICKR