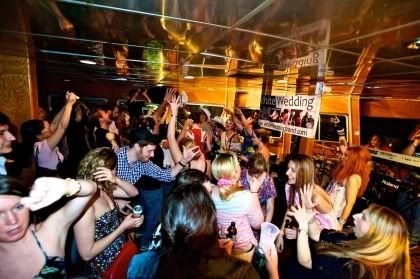 White Wedding's sophomore performance for the Rocks Off Concert Cruise may have been an even bigger success than our previous show. Once again I am extremely proud that we sold out our second showcase on The Jewel but we were also graced with a crowd that may have been livelier than the first time around.
Thing's picked up during our opening set and got fist pumpingly crazier throughout the second. Billie Jean and Spicoli valiantly put on a great performance inches from the faces of the raucous singalong crowd and made sure we got all of our "borrowed" props back as well (tambourines,cowboy hats), Jamie even de-hatted someone right there amongst the throng. The monitor speaker behind my head toppled over during the opening number ("Take On Me") but only caused a quick blemish to my performance. We played Great and Rocked The Boat.
I was the last member onboard (by about 20 minutes!!!) due to my fear of boarding over the "mind the gap" space between the rocking boat and the rocking dock which was "rampless" at the time. Finally I became extremely impatient, overcame my fears, crossed the gap and lived to play in the rocking band.
Premiered at this show (by request) was Fleetwood Mac's "Gypsy" which is currently part of the Stevie Nicks Medley.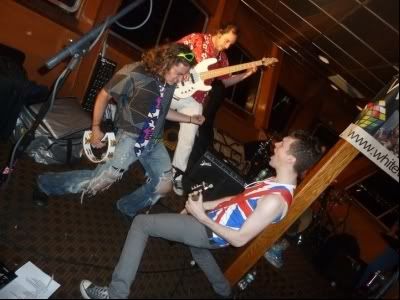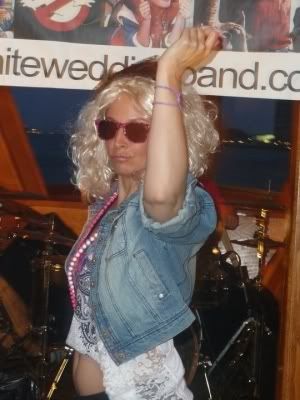 Our props started to slowly filter into the audience but found their way back to us. In this photo I spy 4 cowboy hats, 1 DEVO hat and 1 Turning Japanese hat.
It was a lot easier transporting our gear via "Marco Polo Tub" than as piecemeal like we did on our previous visit.
Well, you live and learn.
p.s. - Rocks Off (Prod.) ran out of FOOD by the very end of the night and graciously ordered the band & crew a few Pizza Pies, Gratis.
FLICKR