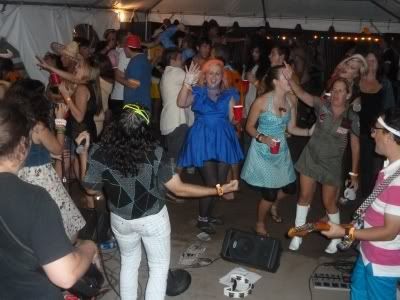 Mardi Gras in Roxbury, Queens at Breezy Point is a bit of an Exclusive affair. After the checkpoint through which our car passed we ventured into (Well, at first we got lost in the parking lot due to NON-instructions from the staff but I DO Digress) a micro-community of what can only be described as "single family beach houses within very close proximity towards one another" (in other words ask your next door neighbor if your snoring is keeping them awake), Not to criticize as this is akin to living in a college dorm bubble, at least for Mardi-Gras time that is.
White Wedding played three Rockin' sets for our tentful of Rowdy Rabscallions who sang along, drank and danced through the night feeding the energy right back to the band. As happens often the setlist gets changed due to the centigrade of the room and this moment stands out within this dialogue between Mike from the frontline and me behind the drum kit (in a VERY NOISY Room mind you) as I saw new coordinates being set but asked twice what he was saying and quickly as we were still playing LOUDLY at the time. of course it was a supercalifragileisiticexpealidocius moment for me and a Long song title for Mike to blurt out twice.
Mike -BonJoviYouGiveLoveABadName
Spike - WHAT ?!!!!
Mike - BonJoviYouGiveLoveABadName
Spike - O.K.
Mission Accomplished.
We all got wristbands to Party-Hearty All the night through after our show was done which was very gracious of our hosts but made the Zipcar/MTA commute back home before dawn.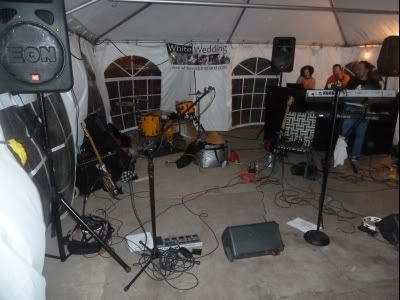 Playin' in a tent is payin' the rent - FZ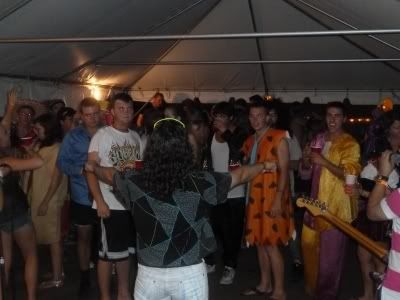 the 80s Trivia portion of the evening is always very entertaining because the audience is the show.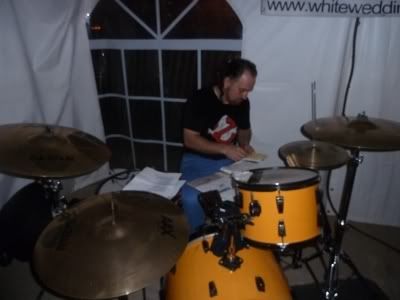 J.C. on the Drums between sets.
I immediately likened the Roxbury portion of Breezy Point to a small mexican village (even though I have never been to a small mexican village) due to the proximity of the single lane between front facing houses and the lived in comfortable bungalow community that gave this place an otherworldly feel.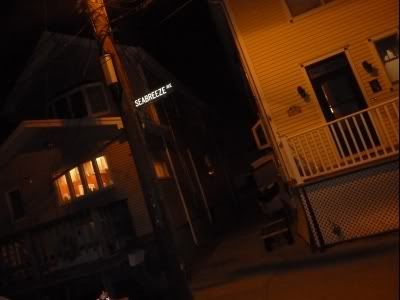 Seabreeze Avenue (and this is NOT Coney Island)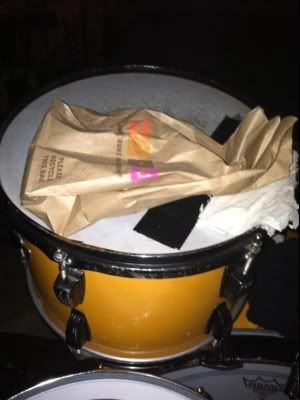 Nancy took this pic when I wasn't looking (must've been at the bar)
just minutes previous to meeting at the Zipcar rendezvous point I grabbed a DD Tuna Salad on a DD Croissant at D and D's which kept me satiated for about 45 minutes, Delicious as the sandwich was (well,..... lets not get technical*).
* - technical notes - It's ALWAYS The Mayo (This is not Hellman's or I will eat my hat) and this is THAT Mayo with the slight aftertaste of Mustard!!! O.K. maybe its the Fish Aftertaste !!! Croissants don't have an aftertaste, Too Much Flaky Air.