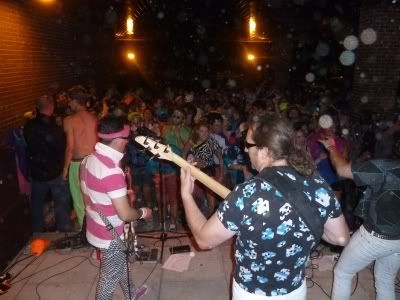 The student alumni at Bates College Really DO Know How To Party as demonstrated at our 80s Night performance on campus at the main entrance to the library. Initially it was just the band, sound crew and college staff at the start time of 10:30 p.m. and we were prepared to perform to an invisible crowd but smartly moved our U2/Bono portion of the show from the top of the set list to a little further on since we were told that this show was promoted on radio and when we asked for directions on campus two of the students (Sam & Ben) asked if we were "White Wedding" so surely we could expect a small audience, I was confident that once the music started wafting across the grounds it would at least bring some curiosity seekers. The first number was now "Bette Davis Eyes" and a few brightly dressed 80s fans checked us out then stepped back into darkness to which Nancy remarked "Well, nobody wants to be first to the party" after which a few people sat on the floor in front of us, I looked down and next time I looked up there was a small throng dancing to our second number "Melt With You" at which Rob commented "Your Like Locust's" which had me and J.C. dying laughing. All Hell (and quite a bit of heck) broke loose as the crowd got bigger and bigger until I could not see any horizon at all. We were duly entertained by the pogoing dancers ourselves and guarded by two bouncers frontstage required there to let us do our show without raucous interruption.
The Bates College Gives Great Audience.
"Pride (In The Name Of Love)" was premiered at this show and tonight was also when Rob told a Lewiston, Maine crowd "Live Free Or Die !!!" to which an audience member replied "that's New Hampshire" not that it mattered as the crowd and band had an absolute Blast throughout the evening on White Wedding's very first Road Gig.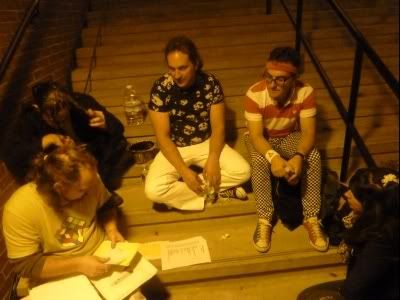 Between sets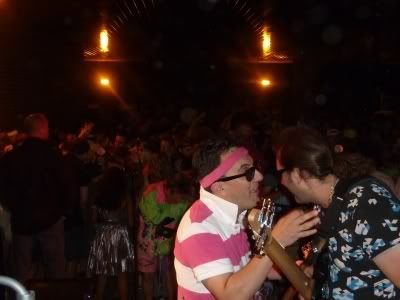 "Dave,.. Dave! you will never believe what I just heard!!!"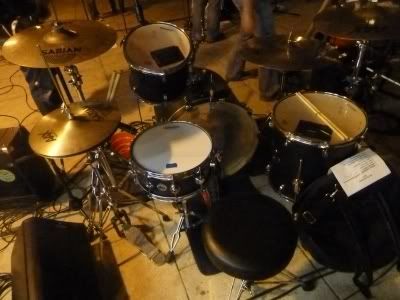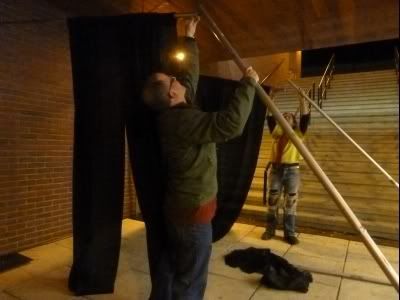 Assembling a last minute changing room with some "pipe & drape"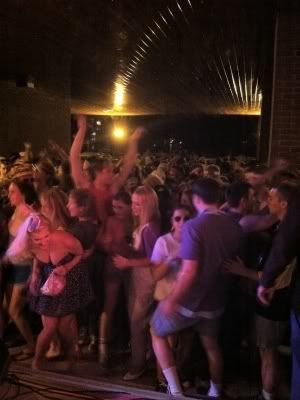 Nancy's vantage point.