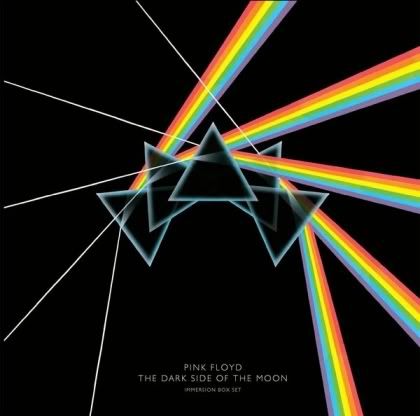 The Dark Side Of The Moon Deluxe Immersion package was made available some months ago (pre-ordered my copy on May 27) at the Very Hefty price of $100.00 for a mere Six Discs and some unique packaging (a Scarf!!!) Following the announcement (and obvious sales popularity) the price was jacked up to $125.00 with no savings in the "order all three" department neither after which I made my decision and pre=ordered all three Box Sets.5-27-11. As the release date loomed closer the list price has since been reduced to $108.19. (9-27-11)which comes along with the all important inner basking glow when amongst the elite persons to cherish and own the box set in the first place amongst such less needed necessities such as food, clothes and sunlight.
Tuesday 9-27-2011 - DSOTM Impression, Experience and Discovery "Pink Floyd catalog" Released, Amazon has not shipped mine yet (Pre-Ordered on 5-27-2011) waiting on Pinks and Needles.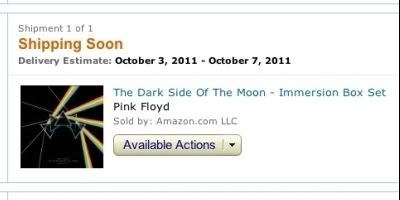 Wednesday 9-28-2011 - DSOTM Impression reported to be shipping soon via Amazon.com tracking ($108.19) (3 a.m.)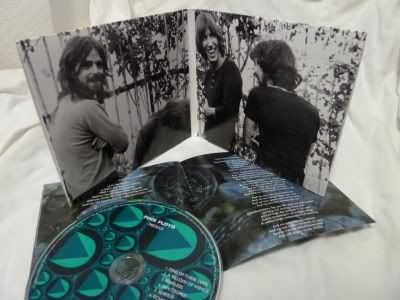 Thursday 9-29-11 - MEDDLE Remaster arrives in my mailbox (pre-ordered five months after DSOTM), nice photo in the gatefold but original gatefold pic used in the booklet. Wondering why not keep the sleeve as a mini LP and use the new b&w photo in the booklet ?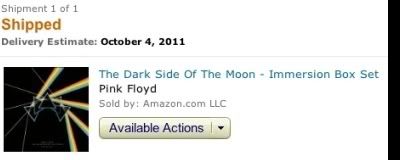 Friday 9-30-11 - DSOTM Impression reported to be shipped (she is somewhere in New Jersey at the moment)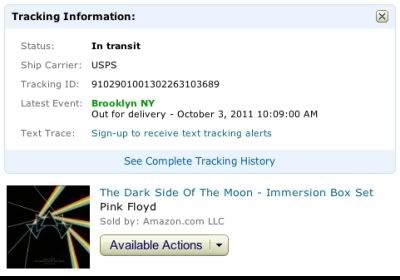 Monday 10-3-11 - Reported "Out for Delivery" in Brooklyn, waiting for the bell to ring,.... Bell does not ring today.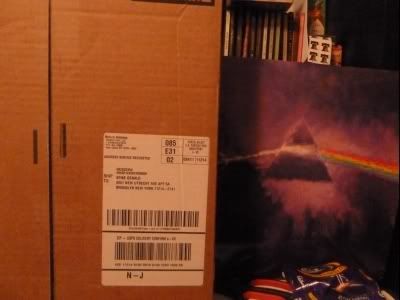 Tuesday 10-4-11 - Bell Rings, Postal Dude hands me THE package (11:35 a.m.) - Listening party and unpacking (7:50p.m.)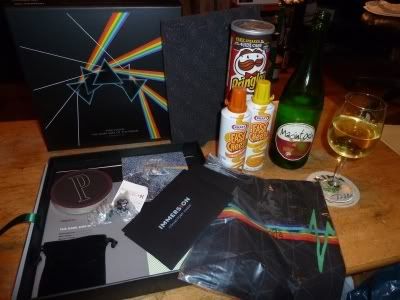 The photograph above was taken right after I had opened the box and I wasn't thinking of taking the "bubblewrap" off of the marbles so that's what those things are. The sound quality is amazing but no Huge differences to the previous remasters and it doesnt appear they have "brickwalled" the output levels which I dont mind in these Ipod days.