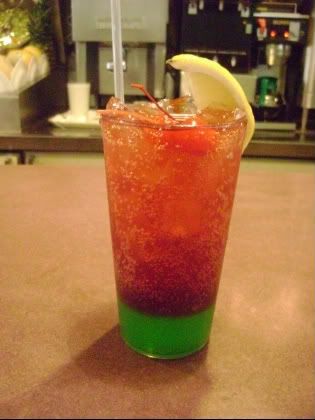 The Wait staff, seating conditions, menu discrepancies, meal values and culinary watermark is not really my place to say in the case of Vega's diner in Bensonhurst, Brooklyn but what they do deliver (and for a meager $2.99) is the Richelieu of Lime Rickeys!!!! The 1970s Richelieu Lime Rickey Layers and all.
In my Excitement I disregarded the overly cute young woman wishing to seat me and asked for a "counter" seat as my stay was a short one. Short But Sweet as I watched the fountain technician construct the Rickey in Question.
1. Lime Syrup
2. Ice
3. Seltzer (gingerly)
4. Cherry Syrup (to seltzer gingerly)
5. Fruit Garnishment
Voila !!!