It was a great joy to return to the Ziegfeld theater after a time span of about 35 years, I saw Star Wars here in 1977 which was probably the second movie I ever saw in a "movie house", the first being a double feature of "The Land That Time Forgot" and "Frogs" so when choosing a New York theater for this screening I chose the Ziegfeld over the more intimate Chelsea Cinema for sentimental value alone. The theater hasn't changed much in all this time remaining a real 1970s classic.
Jotting down the address to the theater before leaving my house I got my signals crossed and wrote 141 West 45th street whereas the Actual address is 141 West 54th street so I power walked over and Jamie was already at the box office window chatting with the ticket booth clerk.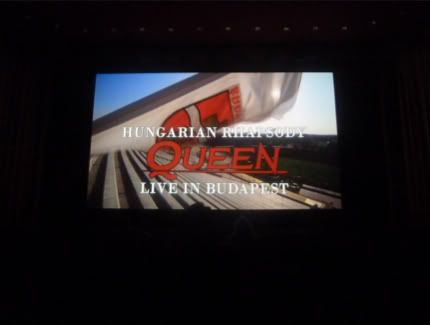 Come 2012 and the QUEEN Live In Budapest film and VHS tape release has been digitally remastered for clearer image and sound and retitled "Hungarian Rhapsody" and they indeed did a great job with it. The audio was superb in the theater and for once no one had to grumble "Turn It Up" as oft happens at these concert film events. The concert was preceded by the 25 minute documentary "A Magic Year" that chronicled the year leading up to the concerts in Hungary beginning with the Live Aid performance, this will be an extra feature on the upcoming DVD release.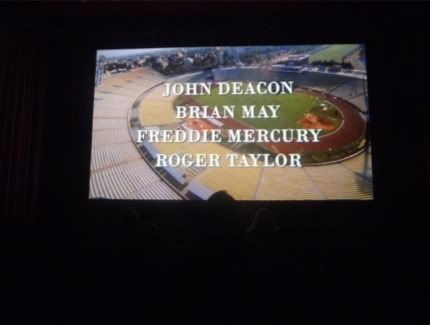 QUEEN in alphabetical order.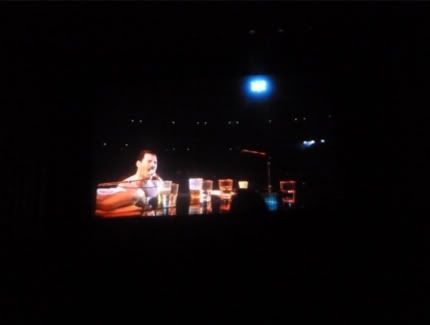 Classic shot of Freddie at the keys with his Heineken and water (or is that vodka ?)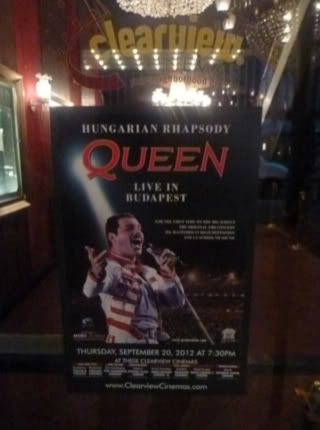 On the way in I snapped a pic of the promo poster and on the way out due in no small part to Jamie's collector's mentality we grabbed these very copies off the glass, mine is now proudly framed and on display.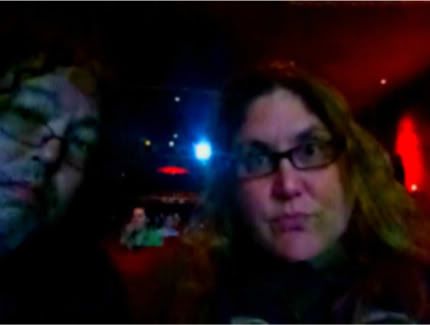 two typical QUEEN fans, one of us looks like a Blueberry Muffin.
Taken from my seat, Just wanted to share the Theatrical Experience folks.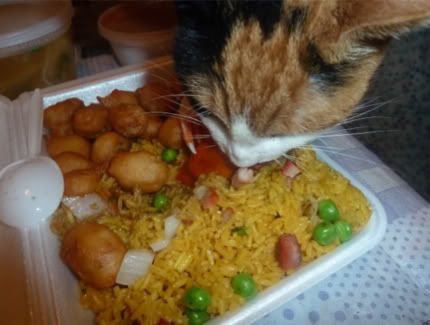 Prior to my getting to the theater I had a Lunch Special of Sweet & Sour Pork with Pork Fried Rice and my cat also almost had some as well.
QUEEN ONLINE PRESS RELEASE