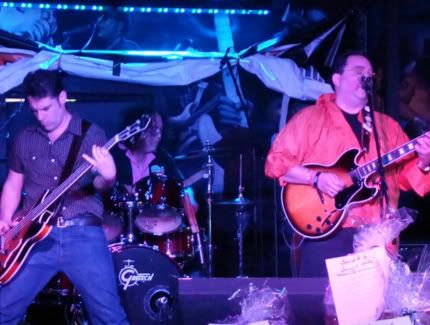 We offered our services at the "Lets Rock and Roll for a Cure" charity concert for a worthy cause and played the middle set (going on around 3 p.m.) amidst 5 bands at K.J. Farrell's on Long Island. This is definitely a bar set up for bands as could be gleaned from the proper placement of the sound tech (opposite stage), Pop Wallpaper (Classic Rock Icons) and hanging TV monitors promoting upcoming gigs for various local cover bands so it was a nice room to play with an actual stage and small lighting setup, the hi-hat was miked for this event which was adequate and backline provided by Thomas' co-worker Gordon.
Premiered at this show was the Stevie Ray Vaughan classic "Texas Flood".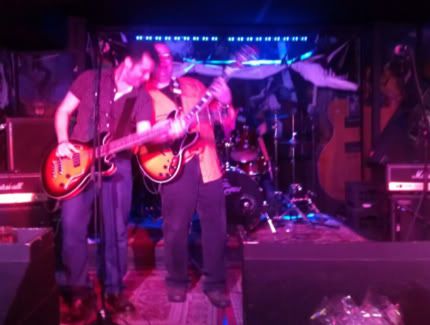 Joe and Tom rocking out.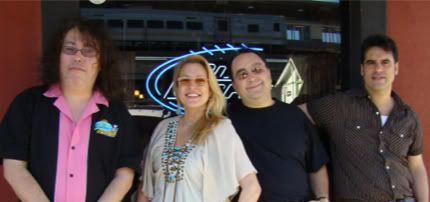 (L to R) - Spike, Fran, Thomas and Joe. It was nice to see Fran again after all these years (the last I saw her was in Thomas' band Heart & Soul in the late 80s) and she will be singing a few numbers with us at the next Good Yegg's show later this month.
There was a Buffet laid out that I attacked after our 50 minute set, pictured here is some nicely done Roasted Potatoes (6 o' clock) , Tasty Eggplant Parmigiana (11 o' clock) and some Chicken Francaise (2 o' clock).
Later in the day Thomas ordered KJ Farrell's Mozzarella Sticks that turned out to be the stretchiest the world has known, I still regret not getting a photo.
Later still Jamie made me Homeade Chicken Parmigiana and Broccoli Rabe Ravioli and this being the "Year of the Rabe" it was very fitting and Delicioso too.
Acorn and Card.
Online Promo Poster.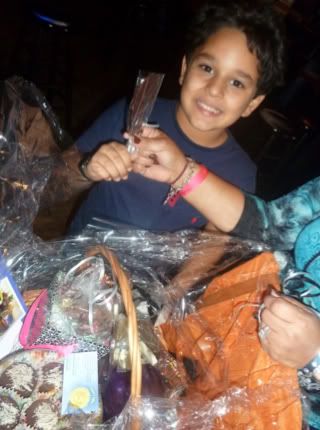 AND Lennon won a basket of Chocolates in the raffle.
LETS ROCK AND ROLL FOR A CURE SITE