The newest addition to Harrah's resort is the Waterfront Tower which is oddly titled since the view only contains reservoirs of the Atlantic City marshlands hundreds of feet below near a construction area but any shortcomings vanish after this, besides if I was paying for the view I wouldnt be visiting Atlantic City for one. Access to the Boardwalk and all of the casinos (and asian massage parlors) are convenient via taxi, Jitney or car and one need not venture further than the Harrah's Casino area which is fully equipped with shoppes, restaurants and a year round swimming pool.
THE PROS: Luxury Suites, Flatscreen TV, Quality Sundries courtesy of Gilchrist & Soames (UK), Extremely Comfortable Simmons Beautyrest Bed, Private Toilet ensconced away from Shower/Sink area, Holy Bible and Phonebook in night stand, Harlot Service, Room Service, Ice Machine (OBOYOBOYOBOY), Small Refrigerator, Large and Efficiently rapid elevator service, Check Out available via TV and Telephone, 60 minute checkout extension, Room Darkening curtains.
THE CONS: No Ipod Dock, Fee for Internet Services, Conditioning Shampoo combination.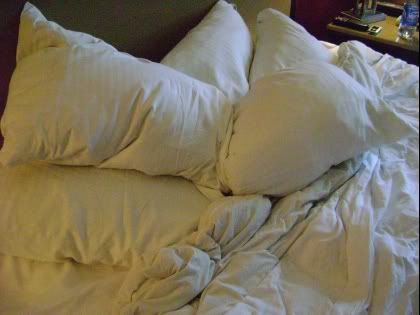 One of the truly greatest nights of Snooze in my life was courtesy of THE Simmons BeautyRest Mattress World Class line (with Memory Foam) which I almost mistook for a Tempurpedic. There is a lot to be said when you are having a whirlwind time on vacation and the hotel room bed is foremost on your mind and at the top of your preference list marked "I Would Rather Be There". The Simmons was like sleeping on a particularly comfortable and Large (eider) Downy-Soft Cloud.
And from the buffet on Monday evening (8/16) just next door at the Borgata.
Succulence at its Succiest, In Other Words Delicious.
(R to L from noon) Broccoli Floret, Freshly Carved Beef, Grilled Iron Steak, Caramelized Onions, Mango Corn ChutneySalsaDelightWhatNot and Borgata Mashed Potatoes with the Brown Gravy.