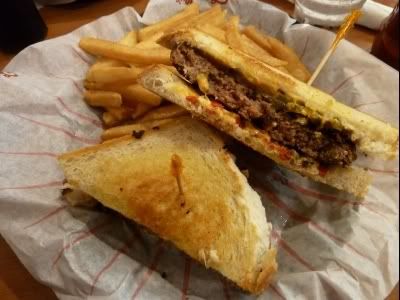 The Zesty Queso BurgerMelt - Black Angus Beef Burger with Chipotle Seasoning, Creamy Cheddar Cheese Sauce, Jalapeno's and Crunchy Tortilla Strips Served on a Grilled Sourdough Bun With French Fries Of Course. I Love Mexican Food, I HAD TO. The Jalapeno's were mild and the Cheddar Creamy.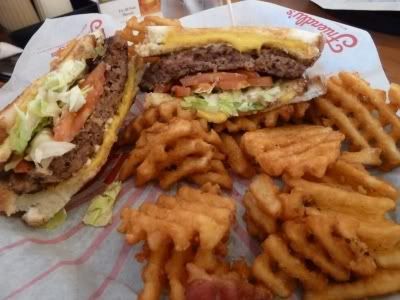 The Grilled Cheese BurgerMelt - Beef Burger served BETWEEN TWO HOT GRILLED CHEESE SANDWICHES with Lettuce,Tomato & Mayo, Flanked by The Waffle Fries (59 cents extrey). BETWEEN TWO HOT GRILLED CHEESE SANDWICHES, Thats ALL You Have To say. I almost got this the night before so knew I had to try one.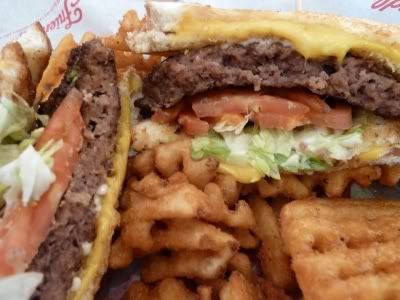 (photo - J. Moroni)
I have previously had a Cheeseburger from Friendly's and was quite pleased but nothing could prepare me for my two day Friendly Eating Spree (2FES) this time around. When it comes down to it the Burgers are Really just O.K. but there is something in the presentation and unique ingredient combinations which makes you want to come back for more.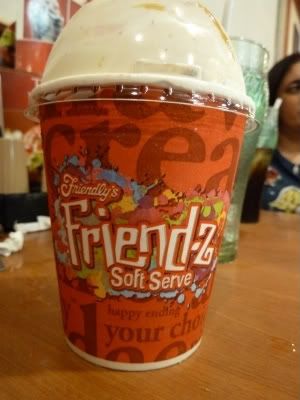 A Reese's Friend-Z Soft serve, OH MY LORD, DELICIOUS!!!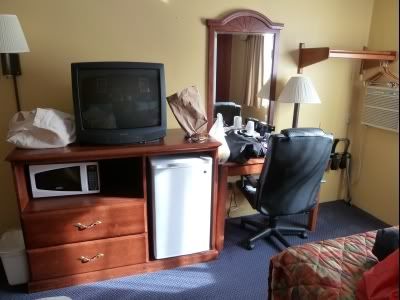 The Days Inn provided an adequate room for sleeping and I suppose TV watching (basic cable equipped) and the ice machine was at the end of the hall, we were on the first floor so I cant say wether or not each floor had a dedicated ice machine. Shampoo and Soap provided by Sol Terre' (Made exclusively for Days Inn)