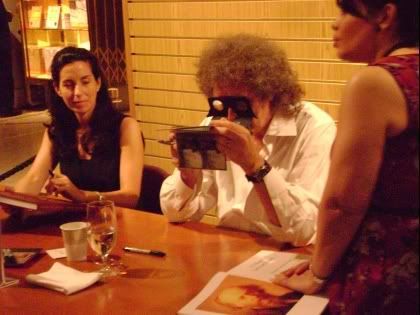 Always a joy to meet Mr. May and in this case attend a short lecture as well in a lecture hall proper at the Metropolitan Museum of Art during a promotional trek for the art book "A Village Lost & Found" which celebrates and archives the stereographic pictograms which T.R. Williams spent his life creating. I was a little surprised to see that most of the crowd seemed to be "stereoscope" enthusiasts as opposed to the expected QUEEN fan but this gave a satisfactory feeling at the proceedings to pronounce the book a success in its own right without a Red Special Toting Curly Haired Rock Star Icon name checked as an author to pre-merit the books quality, popularity and appeal.
I had no idea what to ask Mr. Brian May and being exhausted with pedestrian QUEEN questions I went with the obvious.
me: "On a completely unrelated subject have you been following the Large Hadron Collider in Geneva ?"
Brian May: "From a Distance"
e.g.-(The upcoming experiments at the Large Hadron Collider have sparked fears among the public that the LHC particle collisions might produce doomsday phenomena, involving the production of stable microscopic black holes or the creation of hypothetical particles called strangelets)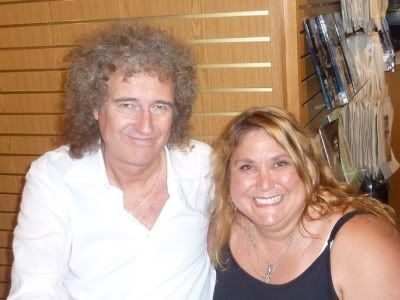 Of course Jamie not only got her book signed but also her complimentary 3-D glasses, ticket stub and needing something QUEEN related, Her last minute purchase of a QUEEN(s) book (see below).
I was there as Jamie asked "Would you sign my QUEEN book?" to which Brian May took a brief gander at and replied "I guess so" we knew Mr. May would be good humored and accommodating but this also leaves Jamie with a highly collectable "one of a kind" piece within the "arcana" set as well (see below).
For those with NO Sense of humor write me or figure it out for yourself (see below).