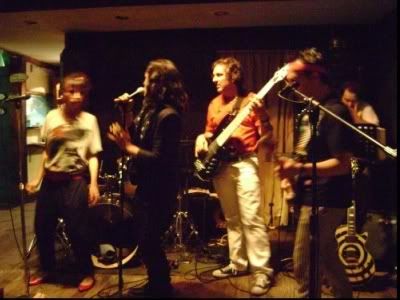 The Bally Bunion Of Bay Ridge is a Long Standing Establishment (L.S.A.) amongst Brooklyn's Classic Bars and it was a fine experience to be privvy to the hospitality, kind words and Fabulous Drink Prices that the "bunion" afforded us as entertainers for the evening.
Perhaps due to the Bands Rabble-Rousing ways whatwhith the pom-pom and DEVO hat action whipping the Audience and Solid Gold Dancers (and just plain onlookers) into such a Frenzy we were invited back before our set ended.
Given such an opportunity we promoted our return gig (see July 17, 2010) over our P.A. from the bandstand.
There was a Really Drunk Guy Too (And NOT A Bandmember)