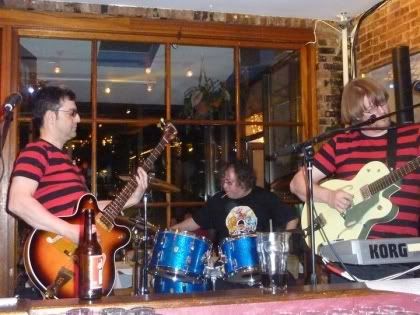 This was one of those rare instances that just "happened" but I was enjoying a Cheeseburger Deluxe with Jamie and her family right next door in the Dining/Catering portion of the Greenhouse Cafe when I needed to use the facilities and spotted a few "neighborhood band" posters, Upon further inspection I noticed my friends band The Rockingham's were performing next door in the bar just twenty minutes previous to the current hour and on that very evening so we went in to check them out.
A nice selection of Sixties classics were performed and I was asked to come up and end the first set to perform a cover of the Eddie Cochran tune Summertime Blues/The WHO version. So it was a Drummer from a different cover band sitting in with The Rockinghams who also cover The Who that cover Blue Cheer who cover Eddie Cochran's Summertime Blues.
I had a Blast and it was all a Blur that was over before it began but it was Great to finally get to jam with my former co-worker Bruce.