There She Is, The Star of the Show. The Lemon Cherry Rickey !!!
It may have even been a decade since my last Lime Rickey, In Hinsch' case they make a Lemon Cherry Rickey ($2.00) only but twas' just as Delicious (OK almost as Delicious) Tangy, Refreshing and Delightful on the Palate.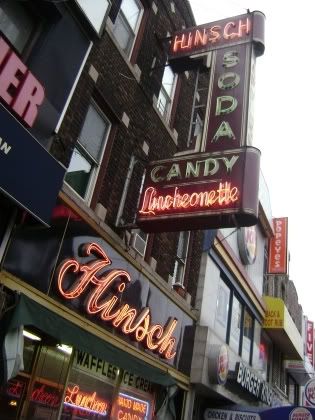 I found myself two hours early for my Rendezvou,.... err appointment with Tanya to get some werk done and decided to whileaway an hour (35 minutes actually) in this Classic Luncheonette of Brooklyn Yore. Unlike Richieulu, Hy Tulip and Bensonhurst Vermouth & Vomit who all sadly disappeared years ago the Glory of Hinsch' remains a mainstay on the 86th street byway (must be in the very least forty years of business).
The Bacon American Cheeseburger (see below) was adequate but a wee bit over priced ($9.00) for the Pattie size and the accoutrements which flanked it, HOWEVER !!! This is the way it used to be in simpler Brooklyn Diner times before the onset of the 1600 oz. Burger. Objective Fulfiiled, I Got My Rickey.
Bloated for hours, No.
Satisfied, Yes.