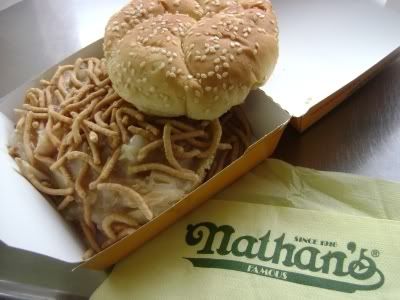 AS served up at the ORIGINAL NATHAN'S FLAGSHIP/STRONGHOLD EATERY STAND RIGHT OFF THE BOARDWALK.
(Established 1916) CONEY ISLAND,BROOKLYN NYC. (Bragging,.... yes)
Classic "Gooey" style 1950's American Chow Mein.
Topped with 1950's style American Crispy Noodles.
ON A SESAME SEED BUN.
Dreadful!!!
Yet Tons of Fun.
Needs some Soy Sauce in my humble opinion,
I drink the stuff meself though.
mmmmm, salty