My Papillae Thank Joe (Who also in all modesty titled this Blog entry) and Jenny for hosting me a scrumptious,hearty and delectable Thanksgiving feast on the very day in queston after all... THE FOOD DAY, Never mind people forgetting the meaning of Christmas (for shame). Thanksgiving is the day WE EAT (No Deities Here) lest we forget. 
YES, I Know there were some pilgrims and Indians (so they telleth)
The Array was Dazzling to the eye and the air was so stuff(ing)ed... I mean thick you could cut it with a gravy ladle,...uhh,...knife.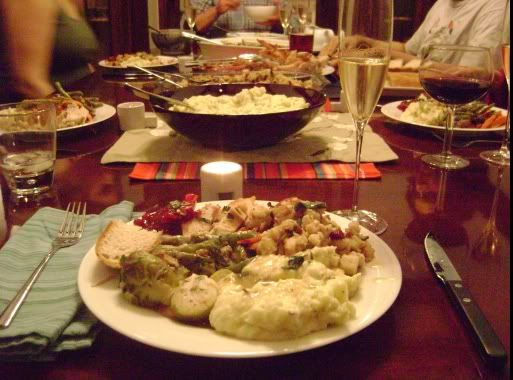 Here's a plate of (clockwise from 12 noon or midnight,your choice) Twenty Four Hour Brined American Turkey, Turkey Skin flanked  by Seasoned Farmery Carrots (slightly below, near where the Westclox logo would be), Homeade Stuffing of the Perfect type,Creamy Mashed Taters with Butter and Sour Cream,Brussell Sprout's with Bacon and Apple Vinegar,a Slice of Bakery fresh Bread flanked by the homeade version of America's Favorite, String Bean Casserole!!! with sauteed Onions and Mushrooms in a Rue (Gotta Love Rue's) and finally at 11:50 the homeade Cranberry Sauce. Yes Virginia There is non-canned Cranberry Sauce (I applaud the folks at Ocean Spray just the same,Lovely products). Things havent been the same since I tasted Kroger's Cranberry Celebration.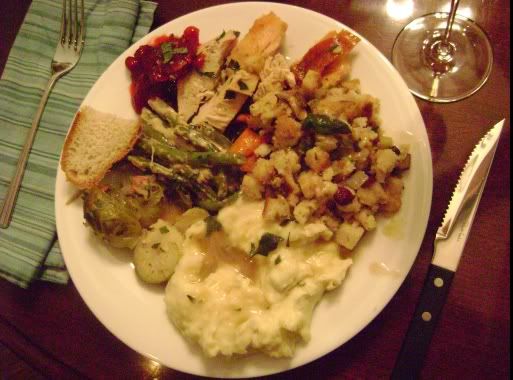 And for afters. 
Le dessert (They are saved as "After's" for a reason,mmmm). Tonight we have Freeform Apple/Pear cobbler with an air propelled dollop of whipping creme (at 2 p.m.) and a homeade Brownie with Chocolate AND Butterscotch chips to boot. As well as Tasty Coffee (didja ever notice how a cuppa joe can look quite realistically like a cuppa gravy) which was way under appreciated after such the ordeal of Flavor on hand.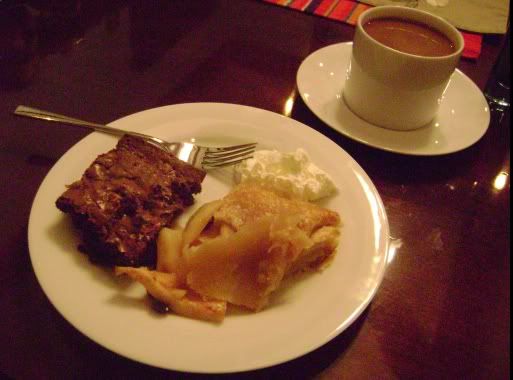 BRAVISSIMO FOOD DAY!!!
The Bird Is Dead.
Long Live The Bird.